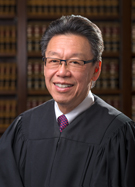 View Judge Chen's Schedule of Upcoming Proceedings…
View Scheduling Notes…
Weekly Court Calendar Schedule
Criminal Law & Motion (Remote)
Criminal Law & Motion (In Person)
Wednesdays
Thursdays
2:30 p.m.
9:00 a.m. – 12:00 p.m.
Civil Law & Motion
Thursdays
1:30 p.m.
Initial CMC
Tuesdays
1:30 p.m.
Further CMC/Status
Tuesdays
2:30 p.m.
Pretrial Conference
Tuesdays
2:30 p.m.
Trial
Dark Thursdays
8:30 a.m. – 2:00 p.m.
Chambers Copy Requirements
The processing of unnecessary chambers copies wastes resources and burdens the court.  Pursuant to Civil Local Rule 5-1(d)(7), chambers copies should not be submitted unless required by the assigned judge's standing order or specifically requested by the assigned judge.
Judges' standing orders may include additional requirements and may differ from the local rules in other particulars.  If they are not in agreement, a judge's standing order supersedes the local rules.
The pertinent parts of Judge Chen's standing orders are set forth below:
Chamber hard copies are not required except when (1) the Court expressly asks the parties to provide hard copies or (2) the parties are making filings for: (a) a Final Pretrial Conference; (b) a Claim Construction hearing; or (c) summary judgment proceedings. For hard copies, (1) all documents must be three-hole punched on the left-hand side; and (2) exhibits to declarations must be tabbed. If electronically filed, declarations containing exhibits must be bookmarked (i.e., if the declaration makes reference to an exhibit, the declaration must contain a hyperlink to the corresponding exhibit; declarations and exhibits to be filed as a single PDF.). The foregoing applies regardless of page length.
Delivery Address
United States District Court
Office of the Clerk
450 Golden Gate Ave, 16th Floor
San Francisco, CA 94102
About Senior District Judge Edward M. Chen
Born 1953 in Oakland, CA
Federal Judicial Service:
Judge, U. S. District Court, Northern District of California
Nominated by Barack Obama on August 6, 2009 and renominated on January 20, 2010, September 13, 2010, and January 5, 2011, to a seat vacated by Martin J. Jenkins; Confirmed by the Senate on May 10, 2011, and received commission on May 12, 2011
U.S. Magistrate Judge, U.S. District Court, Northern District of California, 2001-2011
Education:
University of California, Berkeley, A.B., 1975
University of California, Berkeley, Boalt Hall School of Law, J.D., 1979
Professional Career:
Law clerk, Hon. Charles B. Renfrew, U.S. District Court, Northern District of California, 1979-1980
Attorney, Asian Law Caucus, San Francisco, California, 1980-1981
Law clerk, Hon. James R. Browning, U.S. Court of Appeals, Ninth Circuit, 1981-1982
Private practice, San Francisco, California, 1982-1985
Staff attorney, American Civil Liberties Union Foundation of Northern California, 1985-2001