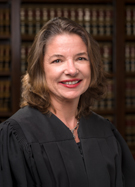 View Judge Corley's Schedule of Upcoming Proceedings…
View Scheduling Notes…
Weekly Court Calendar Schedule
Criminal Law & Motion
Thursdays
11:00 a.m.
Criminal Duty Matters
Daily During Duty Months
10:30 a.m.
Civil Law & Motion
Thursdays
9:00 a.m.
Case Management Conferences
Thursdays
1:30 p.m.
Pretrial Conferences
Thursdays
1:30 p.m.
Trial
8:30 a.m. – 2:00 p.m.
Courtesy/Chambers Copy Requirements
The submission of chambers copies is often required for electronically filed documents. Whereas the local rules state whether and how soon chambers copies must be submitted, judges' individual standing orders sometimes create additional requirements and may differ from the local rules in other particulars. If they are not in agreement, these orders supersede the local rules.
View general information requirements for courtesy/chambers copies under the local rules.
The pertinent parts of Magistrate Judge Corley's standing orders are set forth below:
The Court has suspended the requirement that parties provide chambers copies; however, the Court may request that a party provide chambers copies for particularly voluminous filings.  If the Court does so, the chambers copies should be double-sided (when possible), three-hole punched along the left side of the page, and should bear the ECF filing "stamp" (case number, docket number, date, and ECF page number) along the top of the page.  All exhibits shall be clearly delineated with labels along the right side.  If the filing includes exhibits over two-inches thick, the parties shall place the chambers copy in a binder. Chambers copies should include all material — both redacted and unredacted — so that the chambers staff does not have to re-assemble the whole brief or declaration, although chambers copies should clearly delineate which portions are confidential (via highlighting). Chambers copies shall be marked "Chambers Copy" and submitted to the Clerk's Office, in an envelope marked with "Magistrate Judge Corley," the case number, and "Chambers Copy."
Chambers copies with confidential materials will be handled like all other chambers copies of materials without special restriction, and will typically be recycled, not shredded. If the parties wish to dispose of documents filed under seal in some other way, they must expressly indicate as much in their sealing motion and make arrangements to pick up the documents upon disposition of the motion.
Delivery Address
United States District Court
Office of the Clerk
450 Golden Gate Ave, 16th Floor
San Francisco, CA 94102
About Magistrate Judge Jacqueline Scott Corley
Magistrate Judge Jacqueline Scott Corley has been on the federal bench since 2011 and has presided over nearly every type of civil action at all stages of the proceedings, from motions to dismiss through jury trial. She has also served as a settlement judge in hundreds of cases. She currently serves as the Northern District's Alternative Dispute Resolution Magistrate Judge, in charge of coordinating the alternative dispute resolution program with the Court.
Just prior to taking the bench, Judge Corley was a partner at Kerr & Wagstaffe, LLP in San Francisco as a civil litigator with an emphasis on federal practice. She represented individuals, government entities, and institutions as plaintiffs and defendants in a variety of matters that included trademark, copyright, patent, constitutional law, defamation, malicious prosecution, class actions, contract and probate.
From 1998 through 2009 Judge Corley served as a career law clerk to the Honorable Charles R. Breyer. She also served on the Northern District of California Alternative Dispute Resolution mediation and early neutral evaluation panels from 2006 though her appointment.
Judge Corley received her undergraduate degree from U.C. Berkeley, and her J.D. from Harvard Law School, magna cum laude, where she was an editor and Articles Chair of the Harvard Law Review. Upon graduation she served as a law clerk to the Honorable Robert E. Keeton of the United States District Court for the District of Massachusetts. She then practiced complex commercial litigation and white collar criminal defense at Goodwin, Procter LLP in Boston and was a litigation associate at Coblentz, Patch, Duffy & Bass LLP in San Francisco before joining Judge Breyer in 1998.