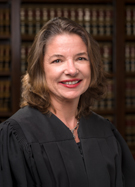 View Judge Corley's Schedule of Upcoming Proceedings…
View Scheduling Notes…
Weekly Court Calendar Schedule
Criminal Law & Motion
Wednesdays (In Person)
Fridays (Zoom)
9:00 a.m.
1:30 p.m.
Civil Law & Motion
Thursdays
10:00 a.m.
Case Management Conferences
Thursdays
1:30 p.m.
Pretrial Conferences
Thursdays
1:30 p.m.
Trial
8:30 a.m. – 2:00 p.m.
Chambers Copy Requirements
The processing of unnecessary chambers copies wastes resources and burdens the court.  Pursuant to Civil Local Rule 5-1(d)(7), chambers copies should not be submitted unless required by the assigned judge's standing order or specifically requested by the assigned judge.
Judges' standing orders may include additional requirements and may differ from the local rules in other particulars.  If they are not in agreement, a judge's standing order supersedes the local rules.
The pertinent parts of District Judge Corley's standing orders are set forth below:
Chamber copies are not required unless specifically requested by the Court.
While the requirement of chambers copies has been suspended, the Court may request that a party provide chambers copies for particularly voluminous filings. If the Court does so, the chambers copies should be double-sided (when possible), three-hole punched along the left side of the page, and should bear the ECF filing "stamp" (case number, docket number, date, and ECF page number) along the top of the page. All exhibits shall be clearly delineated with labels along the right side. If the filing includes exhibits over two-inches thick, the parties shall place the chambers copy in a binder. The chambers copies shall be marked "Chambers Copy" and submitted to the Clerk's Office, in an envelope marked with "Magistrate Judge Corley," the case number, and "Chambers Copy."
Delivery Address
United States District Court
Office of the Clerk
450 Golden Gate Ave, 16th Floor
San Francisco, CA 94102
About District Judge Jacqueline Scott Corley
Born 1966 in Long Beach, CA
Federal Judicial Service:
Judge, U.S. District Court for the Northern District of California
Nominated by Joseph R. Biden on January 3, 2022, to a seat vacated by William Haskell Alsup. Confirmed by the Senate on March 17, 2022, and received commission on March 30, 2022.
Other Federal Judicial Service:
U.S. Magistrate Judge, U.S. District Court for the Northern District of California, 2011-2022
Education:
University of California, Berkeley, B.A., 1988
Harvard Law School, J.D., 1991
Professional Career:
Law clerk, Hon. Robert E. Keeton, U.S. District Court for the District of Massachusetts, 1991-1992
Private practice, Boston, Massachusetts, 1992-1994
Private practice, San Francisco, California, 1994-1997, 2009-2011
Law clerk, Hon. Charles R. Breyer, U.S. District Court for the Northern District of California, 1998-2009
Other Nominations/Recess Appointments:
Nominated to U.S. District Court for the Northern District of California, November 3, 2021; no Senate vote