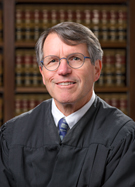 Senior District Judge William H. Orrick
San Francisco Courthouse
450 Golden Gate Avenue, San Francisco, CA 94102
---
Notice Re: Appearances and Continued Use of Zoom
Civil Cases: Judge Orrick sees substantial cost-savings for the parties in continuing the use of Zoom for Case Management Conferences and Law and Motion hearings and will continue to use Zoom for these proceedings as the default for appearances.  If the lawyers in a particular case wish to be heard in person, they should post a notice of intent to appear in person on ECF at least 48 hours before the hearing is scheduled.  If only one side wishes to appear in person, Judge Orrick's courtroom has the technological capability to allow the other side to appear by Zoom.  This is not a preferred way to proceed, but Judge Orrick will allow it on a case by case basis if necessary.  Pre-trial conferences and any evidentiary hearings will be held in person.
Criminal Cases: Sentencing, Change of Plea, and any evidentiary hearings shall be in person.  The only exception is that if the lawyers and defendant stipulate to appear by Zoom for good cause, Judge Orrick may allow it on a case by case basis.  Such stipulations shall be filed at least 48 hours before the scheduled hearing.  Status conferences and non-evidentiary motions may proceed by Zoom upon agreement by the lawyers and defendant.  The parties shall post a notice on ECF at least 48 hours in advance of the agreement to a Zoom appearance for such hearings.  It is the expectation of Judge Orrick that status conferences and motions for in-custody defendants will occur by Zoom as long as the CARES Act is in effect.
Join a Webinar by Phone or Other Connection
IMPORTANT NOTE:  If you are a case participant (attorney, party, witness, or other person who will actively participate in the hearing), it is strongly recommended that you join Zoom using the Zoom application rather than by a telephone connection.  If you must appear by telephone, the numbers posted for each judge are for the public and are listen-only, so you will need to contact the Courtroom Deputy (CRD) at least one business day before the hearing to request a Zoom invitation (which will be sent via email) in order to join the hearing as a case participant.
Phone: (669) 254-5252 or (646) 828-7666
International numbers: https://cand-uscourts.zoomgov.com/u/advFLxrTkx
H.323: 161.199.138.10 (US West) or 161.199.136.10 (US East)
---
Non-Public Hearings [Settlement Conferences]
The court will use Zoom Meetings (as opposed to Zoom Webinars) for settlement conferences and other non-public hearings.  To join a meeting, click on the link below.  You will initially enter a "waiting room" and will be admitted into the meeting by court staff.
https://cand-uscourts.zoomgov.com/j/1617174922?pwd=SG9zZm1udUxlVEhtUUNHNmVGeXJ4UT09
Meeting ID: 161 717 4922
Password: 687019
Join a Meeting by Phone or Other Connection

View Judge Orrick's Schedule of Upcoming Proceedings…
View Scheduling Notes…
Weekly Court Calendar Schedule

| | | |
| --- | --- | --- |
| Criminal Law & Motion | Thursdays | 1:30 p.m. |
| Civil Law & Motion | Wednesdays | 2:00 p.m. |
| Pretrial Conferences | Mondays | 2:00 p.m. |
| Case Management Conferences | Tuesdays | 2:00 p.m. |
Chambers Copy Requirements
The processing of unnecessary chambers copies wastes resources and burdens the court.  Pursuant to Civil Local Rule 5-1(d)(7), chambers copies should not be submitted unless required by the assigned judge's standing order or specifically requested by the assigned judge.
Judges' standing orders may include additional requirements and may differ from the local rules in other particulars.  If they are not in agreement, a judge's standing order supersedes the local rules.
The pertinent parts of Judge Orrick's standing orders are set forth below:
No courtesy copies shall be provided, except: (1) courtesy copies of electronic media manually filed shall be provided to chambers; and (2) if the exhibits submitted in support of motions for temporary restraining orders, preliminary injunctions, or summary judgment exceed 100 pages, courtesy copies shall be provided in binders with tabs separating each exhibit.
Delivery Address
United States District Court
Office of the Clerk
450 Golden Gate Ave, 16th Floor
San Francisco, CA 94102
About Senior District Judge William H. Orrick
Born 1953 in San Francisco, CA
Federal Judicial Service:
Judge, U. S. District Court, Northern District of California
Nominated by Barack Obama on June 11, 2012 and renominated on January 3, 2013, to a seat vacated by Charles R. Breyer. Confirmed by the Senate on May 15, 2013, and received commission on May 16, 2013.
Assumed Senior Status on May 20, 2023.
Education:
Yale University, B.A., 1976
Boston College Law School, J.D., 1979
Professional Career:
Attorney, Georgia Legal Services Program, Savannah, Georgia, 1979-1984; acting managing attorney, 1981; supervising attorney, 1982-1984
Private practice, San Francisco, CA, 1984-2009, 2013
Civil Division, U.S. Department of Justice, 2009-2012; counselor, 2009-2010; deputy assistant attorney general, 2010-2012