IMPORTANT:  Smart phones CANNOT be used for interpreting in court hearings.
When your are interpreting a hearing on Zoom, you will be joining the hearing as an Attendee and be promoted to the role of Panelist.  When the hearing begins, the Courtroom Deputy will provide interpretation instructions to the participants.  During this period, you are to provide consecutive interpretation for the individual(s) receiving interpretation services.
Once the Courtroom Deputy turns on interpretation tools, you will receive a notification informing you that you have been selected to interpret.  This will include the language channels selected for you.
Assignment Confirmation when Interpreting on a Computer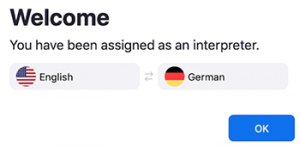 Assignment Confirmation when Interpreting on a Tablet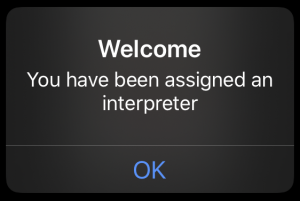 Toggle Between Languages
When you accept the role of Interpreter, you will see a toggle switch that displays English and the alternative language.  When addressing the court, click English.  When addressing the individual receiving interpretation services, select the alternative language channel.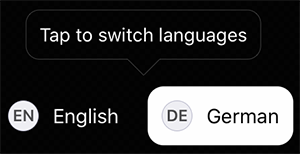 Important Details
Hearing recordings of interpretation sessions only record the original audio (English) channel, not the translations.
If you are working with another interpreter, you will be unable to hear them unless your coordinate a listening option on another device.  Zoom does not allow interpreters to hear one another so that a meeting can be translated into many languages simultaneously.
Some proceedings require consecutive interpretation due to technical limitations. For these, you will join the Zoom hearing as a panelist and interpret similar to an open party-line call.
Learning Resources