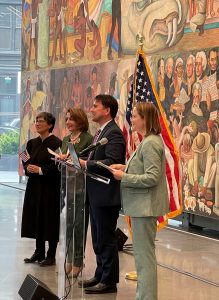 San Francisco – The United States District Court for the Northern District of California had the privilege of participating in a naturalization ceremony last Saturday, February 11. The ceremony was held at the Museum of Modern Art (MOMA) in San Francisco and was presided over by Magistrate Judge Lisa J. Cisneros, the newest magistrate judge in the Northern District.
The theme of the naturalization ceremony was Women in STEM, celebrating the contributions of women in science, technology, engineering, and mathematics. The ceremony recognized a diverse group of 36 women representing 17 countries around the world.
Judge Cisneros administered the oath of allegiance and welcomed the new citizens into the United States. The ceremony featured several speakers, including prominent women in STEM fields, who shared their personal stories and encouraged the new citizens to pursue their dreams.
U.S. Representative Nancy Pelosi, speaker emerita of the U.S. House of Representatives, also participated in the event, helping to hand out the certificates of naturalization to the newly sworn-in citizens. Rep. Pelosi emphasized the importance of diversity and the contributions that immigrants make to the fabric of American society.
"We are honored to have had the opportunity to participate in this special event," said Chief Judge Richard Seeborg of the Northern District of California. "We congratulate each and every one of the participants on this important milestone and wish them all the best as they begin their new lives as citizens of the United States."
For more information about naturalization ceremonies and other events hosted by the Northern District of California, visit the district's website at www.cand.uscourts.gov.