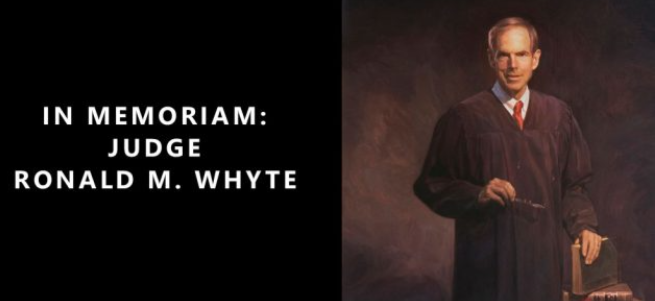 United States District Judge Ronald McLeod Whyte, Northern District of California, died early Monday morning, April 10, 2023. He was born Oct. 25, 1942, in Claremont, California, to James and Eleanor Whyte. Judge Whyte served as a district judge for 17 years, from February 1992 until March 2009 when he assumed senior status. He assumed inactive status on Nov. 1, 2016.
Judge Whyte received his undergraduate degree from Wesleyan University in 1964 and his Juris Doctor from the University of Southern California Gould School of Law in 1967. Prior to his federal service, Judge Whyte served as a California Superior Court judge in Santa Clara County from 1989 to 1992. He engaged in private practice as an associate, then as a partner, with the law firm of Hoge, Fenton, Jones and Appel, in San Jose, Calif., from 1971 to 1989. Judge Whyte served as a lieutenant in the U.S. Navy and the Judge Advocate General's Corps from 1968 to 1971 on active duty and from 1971 to 1974 on reserve duty. He was in private practice in Claremont, California, from 1967 to 1968.
Judge Whyte was a powerhouse in the intellectual property arena and a recognized expert in the field. In 1995, his ruling set a precedent in Religious Technology Center v. Netcom On-Line Communication Services Inc.; Based on his ruling, Congress enacted the Digital Millennium Copyright Act three years later.
He received the 2011 American Inns of Court Professionalism Award for the Ninth Circuit and at the time was serving on a number of committees and boards, including George Washington University Law School's Intellectual Property Advisory Board and the Patent Jury Instruction Committee for the Northern District.
In a 2009 landmark decision, United States v. Buddenberg, Judge Whyte presided over a case to determine whether a 2006 law prohibiting violent animal rights protests was unconstitutional following a Justice Department crackdown on people allegedly making threats against medical researchers. He dismissed the charges against the four activists in 2010.
"I had the privilege of serving alongside Judge Whyte on a number of Circuit Committees and witnessed firsthand his unparalleled ability to listen to all perspectives with great care and curiosity," said Ninth Circuit Chief Judge Mary H. Murguia. "He was gifted at making the most complicated legal issues simple, plain, and intelligible. Judge Whyte's example of humility, intellect, and wisdom is one that I will always treasure."
"Judge Whyte was a revered and beloved member of this Court for over two decades," said Chief District Judge Richard Seeborg, Northern District of California, where Judge Whyte sat. "He combined a brilliant mind, prodigious work ethic and total integrity with humility, humor and compassion. Simply put, he was not only a model federal judge but also a lovely human being. He particularly stood out in the area of intellectual property law in which he forged a national reputation. On a personal note, he was a mentor and friend who I will sorely miss."
Judge Whyte is survived by his beloved wife, Ann; children, Kevin Whyte (Mary Anne Mohanraj) and Susan Duran (Shawn); and four grandchildren, Kavya and Anand Whyte, Brooke and Maya Duran. In lieu of flowers, donations may be made in Judge Whyte's memory to the Michael J. Fox Foundation for Parkinson's Research. Services will be held Saturday, June 3, at 1 pm at St. Luke's Episcopal Church in Los Gatos, Calif.