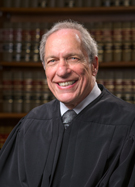 View Judge White's Schedule of Upcoming Proceedings…
View Scheduling Notes…
Judge White's Weekly Court Calendar Schedule

| | | |
| --- | --- | --- |
| Criminal Law & Motion | Tuesday | 1:00 p.m. |
| Civil Law & Motion | Fridays | 9:00 a.m. |
| Pretrial Conferences | Mondays | 2:00 p.m. |
| Case Management Conferences | Fridays | 11:00 a.m. |
Courtesy/Chambers Copy Requirements
The submission of chambers copies is often required for electronically filed documents. Whereas the local rules state whether and how soon chambers copies must be submitted, judges' individual standing orders sometimes create additional requirements and may differ from the local rules in other particulars. If they are not in agreement, these orders supersede the local rules.
View general information requirements for courtesy/chambers copies under the local rules.
The pertinent parts of Judge White's standing orders are set forth below:
A copy of all documents filed both electronically and manually with the Clerk's Office shall be submitted to the Clerk's Office in an envelope clearly marked with the case number and "JSW Chambers Copy" in the time required by the Northern District Civil Local Rules.
All chambers copies must be securely bound at the top or on the side, either with staples, "ACCO" fasteners, velo-binding or shall be submitted in binders. Binder clips, paper clips, and rubber bands will not satisfy this requirement. If a particular motion, declaration or other submission is more than two inches thick, the parties should submit the chambers copies of the document in multiple volumes that do not exceed two inches.
When a declaration or other document includes exhibits, parties shall submit chambers copies of the documents which include tabs that separate each exhibit.
The Court reserves the right to reject non-conforming chambers copies and to require the party to re-submit them in accordance with this paragraph.
Delivery Address
Ronald V. Dellums Federal Building
& United States Courthouse
Office of the Clerk
1301 Clay Street, Suite 400 S
Oakland, CA 94612
About District Judge Jeffrey S. White
Born 1945 in Brooklyn, New York.
Federal Judicial Service:
Nominated by President George W. Bush July 25, 2002; confirmed by the Senate November 14, 2002; received commission November 15, 2002
Education:
Queens College of City University of New York, B.A. 1967 SUNY University at Buffalo, J.D. 1970
Professional Career:
Attorney, Criminal Division, U.S. Department of Justice 1970-1971
Assistant U.S. attorney, District of Maryland 1971-1977
Attorney, Criminal Division, U.S. Department of Justice 1977-1978
Private practice, San Francisco, California 1978-2002