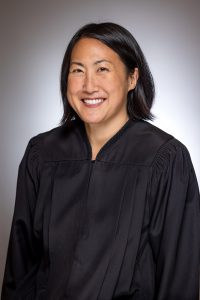 View Judge Lin's Schedule of Upcoming Proceedings…
View Scheduling Notes…
Weekly Court Calendar Schedule
Civil Law & Motion
Tuesdays
(In Person)
10:00 am
Tuesdays
(Zoom with prior leave of court)
1:30 pm
Case Management Conferences
Wednesdays
(Zoom)
10:00 am
Criminal Law & Motion
Thursdays
(In Person)
2:00 pm
Pretrial Conferences
Tuesdays
(In Person)
2:30 pm
Trials
Dark Tuesdays
9:00 am – 1:30 pm
Chambers Copy Requirements
When a document filed on ECF is accompanied by more than 10 attachments, the filing party must deliver a flash drive with all the attachments to Judge Lin's chambers within 3 court days of filing.  The flash drive should be labeled with the name and number of the case.  The flash drive should contain the ECF version of each attachment, with its ECF header.  The name of each PDF file on the flash drive should include the type of document, a brief description of the document, and the docket number.  For example, a news release (docket number 61-2) filed as the first exhibit to a declaration (docket number 61-1), would be, "[61-2] Decl Doe Ex 1 – News Release." 
Paper courtesy copies shall not be submitted unless the Court requests them.
Delivery Address
United States District Court
Office of the Clerk
450 Golden Gate Ave, 16th Floor
San Francisco, CA 94102
About District Judge Rita F. Lin
Born 1978 in Oakland, CA
Federal Judicial Service:
Nominated by Joseph R. Biden on August 1, 2022, and re-nominated on January 23, 2023, to a seat vacated by Edward Milton Chen.

Confirmed by the Senate on September 19, 2023. 
Education:
Harvard University, B.A., 2000

Harvard Law School, J.D., 2003
Professional Career:
Law clerk, Hon. Sandra Lynch, U.S. Court of Appeals for the First Circuit, 2003-2004

Private practice, San Francisco, California, 2004-2014

Assistant U.S. attorney, Northern District of California, 2014-2018

Judge, Superior Court of California, County of San Francisco, 2018-2023

Adjunct professor, University of California Hastings College of the Law (now University of California College of the Law), 2021
Frequently Asked Questions
Do I have to reserve a hearing date for a motion hearing?
No, you do not need to reserve a hearing date or contact the Court for a date.  Please follow the local rules (See Civil LR 7-2) and set the hearing on a Tuesday at 10:00 a.m. in San Francisco, but check the Scheduling Notes link on Judge Lin's webpage to make sure that the Court is available and the date is not closed for further settings.

Is the Court holding hearings in person or via Zoom?
Civil case management conferences will be held via Zoom.  All other hearings and conferences in civil and criminal matters will generally be held in person absent further notice or leave to proceed otherwise from the Court.
How can I tell if a hearing is being held by Zoom videoconference?
If you see a link on the calendar beneath the case number and case name that says, "For connection information, please see the judge's page," that means the proceeding is being held by Zoom videoconference.
Does the Court require courtesy copies of complaints and briefs?
Courtesy copies are required only when a document filed on ECF is accompanied by more than 10 attachments.  The filing party must deliver a flash drive with all the attachments to Judge Lin's chambers within 3 court days of filing.  Please see Judge Lin's Civil Standing Order for more specific requirements.  Paper courtesy copies shall not be submitted unless the Court requests them. 
Does the Court require proposed orders to be emailed?
Proposed orders are not necessary for most substantive motions, such as motions for summary judgment, motions to dismiss, or preliminary injunction motions.  The parties should submit proposed orders only in connection with administrative motions, ex parte applications, discovery disputes, and rulings that call upon the court to make factual findings (such as a motion to approve a class settlement or a motion for attorneys' fees).  All proposed orders should be sent in Microsoft Word compatible format to rflpo@cand.uscourts.gov.  Please do not email any proposed orders to rflcrd@cand.uscourts.gov.
Does the Court issue tentative rulings?
No, this Court does not issue tentative rulings.
Can my client observe a motion hearing by Zoom?
Unless the hearing is scheduled to proceed by Zoom, the Court does not broadcast motion hearings on Zoom.