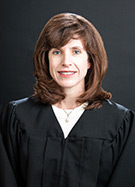 View Judge DeMarchi's Schedule of Upcoming Proceedings…
View Scheduling Notes…
Weekly Court Calendar Schedule

| | | |
| --- | --- | --- |
| Civil Law and Motion | Tuesdays | 10:00 a.m. |
| Case Management Conferences | Tuesdays | 1:30 p.m. |
| Criminal Law and Motion | Thursdays | 10:00 a.m. |
| Criminal Duty Matters | Daily during Duty Months | 2:00 p.m. |
Chambers Copy Requirements
The processing of unnecessary chambers copies wastes resources and burdens the court.  Pursuant to Civil Local Rule 5-1(d)(7), chambers copies should not be submitted unless required by the assigned judge's standing order or specifically requested by the assigned judge.
Judges' standing orders may include additional requirements and may differ from the local rules in other particulars.  If they are not in agreement, a judge's standing order supersedes the local rules.
The pertinent parts of Judge DeMarchi's standing orders are set forth below:
Chambers copies. Consistent with General Order 78, the Court does not require chambers copies, unless such copies are specifically requested for a matter. Chambers copies of joint discovery dispute letters, motion papers filed pursuant to Civil L.R. 7-2, opposition papers filed pursuant to Civil L.R. 7-3, and reply papers filed pursuant to Civil L.R. 7-3 should be delivered to the Clerk's Office no later than the close of the next court day following the day that the paper was electronically filed. Chambers copies must be double-sided and 3-hole punched along the left margin of the paper. Such copies must be marked with the notation "Chambers Copy" and submitted to the Clerk's Office in an envelope marked with the case name, case number, and the words "Magistrate Judge DeMarchi Chambers Copies."
Courtesy copies. In addition to complying with all provisions of Civil L.R. 5-1(h), parties who are ECF users are encouraged to provide courtesy copies in electronic form of voluminous electronically filed documents to all other parties in the action, via email or other agreed means, promptly after completion of filing.
Delivery Address
Robert F. Peckham Federal Building
& United States Courthouse
Office of the Clerk
280 South 1st Street
San Jose, CA 95113
About Magistrate Judge Virginia DeMarchi
Magistrate Judge Virginia DeMarchi joined the court in 2018 after 22 years as a litigator in private practice in Silicon Valley.
Before taking the bench, Magistrate Judge DeMarchi was a partner with Fenwick & West LLP where she represented technology and life sciences companies in patent infringement and other intellectual property matters in a wide range of industries, including e-commerce, computer hardware and software, industrial enzymes, pharmaceuticals, medical devices, financial services, communications, and consumer products. She also served as general counsel to the firm and as a member of the executive committee.
In addition to her private law practice, Magistrate Judge DeMarchi served for nearly 10 years on the board of directors for the Law Foundation of Silicon Valley and has been active in pro bono representation of federal and state inmates and victims of domestic violence.
Before joining Fenwick & West, Magistrate Judge DeMarchi served for two years as a trial attorney with the Civil Division of the United States Department of Justice in Washington, D.C. and clerked for District Judge Steven J. McAuliffe in the District of New Hampshire. Magistrate Judge DeMarchi earned her law degree cum laude from Harvard Law School and her undergraduate degree with honors from Stanford University.